Melville purposefully distorted and misrepresented
the character of what was, in fact, a truly
terrific
white whale.
The ultimate "Prairie House" was designed not by Frank,
but his son John.
In 1959, a drive-in theater could show TV reruns and Terrytoons
and still get at least one carload of people to show up.
The 1950's were not kind to Mickey Rooney.
It took months to correct the confusion created by
The Batman Modeling Team's
contribution to Urology Awareness Week.
Social skills atrophied quickly
when an obsessive passion for coloring
developed in six-year-old Ted Nugent.
Hitchcock's main source of income in the 1950's was UK merchandising.
The U.S. Center for Disease Control estimates
that robots who quit smoking add an
average 14.2 hours of battery life.
Depression-Era "Bankrupt Donald Duck,"
considered "topical toy" in 1932,
might just be poised for a big comeback.

Tragedy has all the elements necessary for "family fun."
You can't help but wonder what horrifying board games
might be on store shelves today if The Ideal Toy Corporation
of Hollis, New York were still around.
The Sinking of the Titanic Game featured a
"new 3 piece movable game board":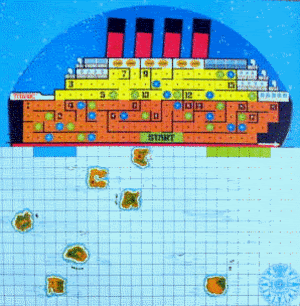 Actual
Excerpts From the rules:
THE OBJECT of the game is to be the first player to board the RESCUE SHIP – with at least two passengers, two water tokens and two food tokens. The Titanic starts to sink after each player has taken his first turn.
When desired, a player may abandon his current stateroom assignment and proceed by the roll of the dice to a lifeboat. Should an assigned stateroom sink under the water line before the player gets to it, his Passenger Card is returned to the bottom of the deck.
A player forced to move to the lifeboat launching area without a lifeboat loses all his passengers, food & water. A player who leaves the lifeboat launching area without a lifeboat is considered to be "swimming."
And from the box lid:
You have to be ready to repel your fellow players' attempts to board your lifeboat and take your food and water. It's a merciless struggle, especially when the rescue ship heaves into sight – because the first player who reaches it with at least two passengers, two food and two water tokens is the winner. And what about the others? Well, you might say they've lost at sea.
And speaking of being repelled…
The New Game Across The Atlantic
"From Liverpool to New York without touching icebergs"
… came out three weeks after the Titanic sunk.
Some things never change.
That's what old toys teach us.